It's Time to Protect Your Scattered Data
Enterprise Data Protection Just Got a Whole Lot Better
No painful installations​
Proactively prevent breaches
No classifications needed
Control your data everywhere
Easy regulatory compliance

Introducing ITsMine's Data Protection Platform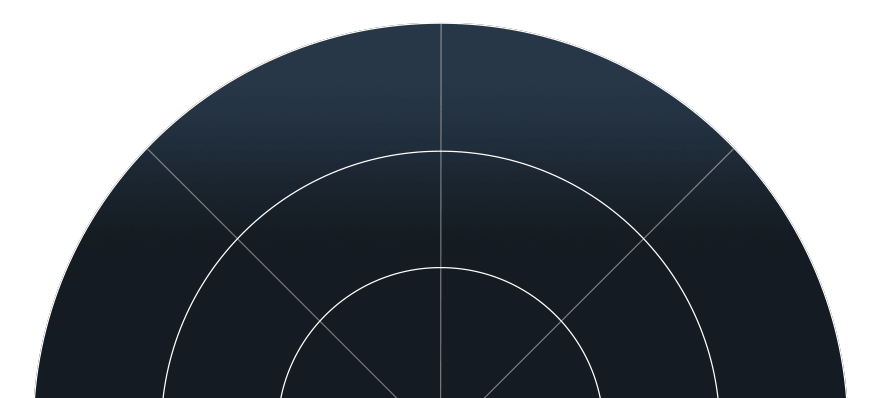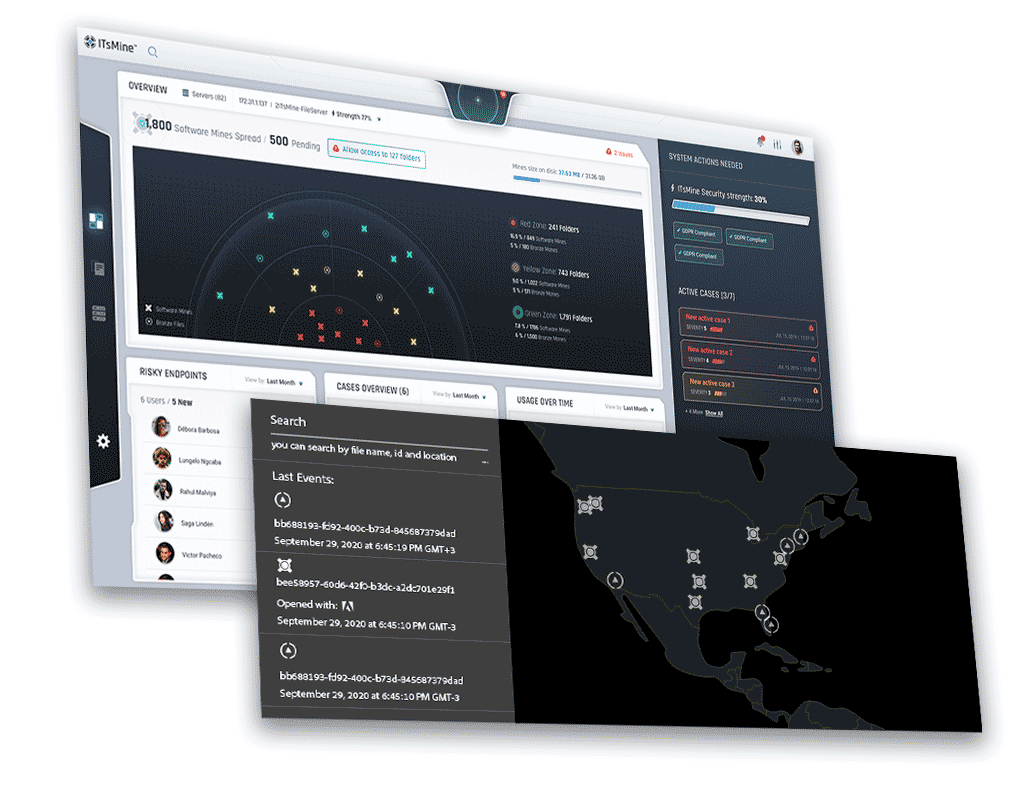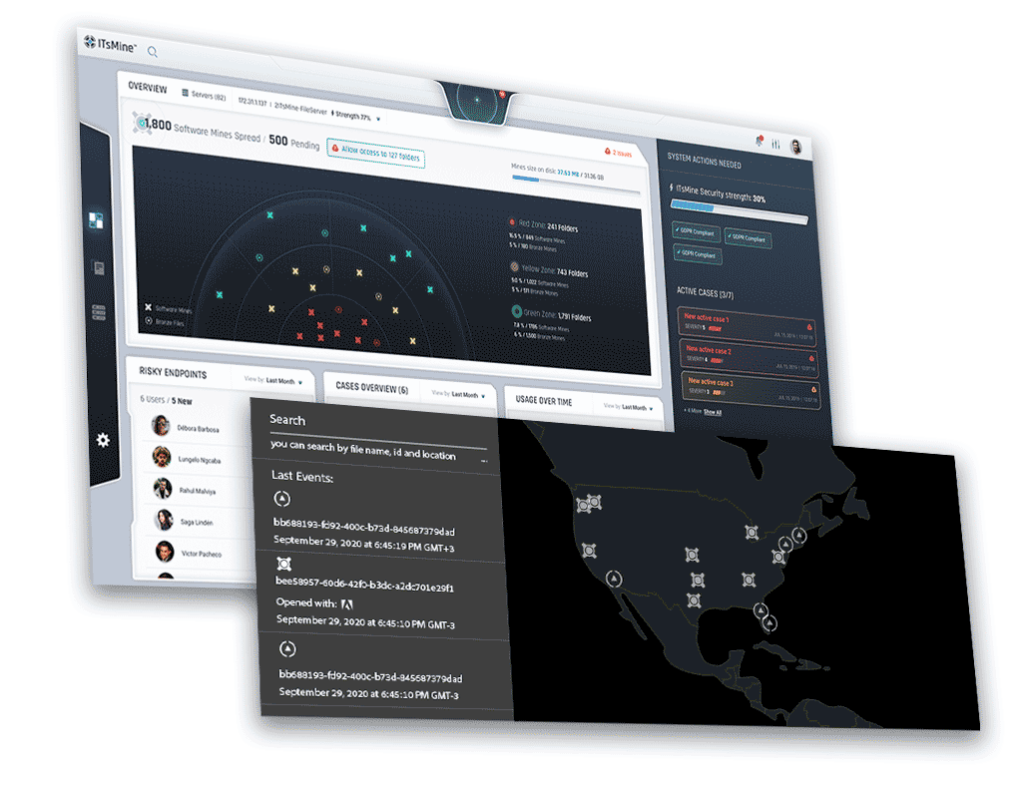 Track & control your scattered data's location, anywhere: on-premise, in the cloud and on personal devices – by transforming any folder in your organization's file storages into 'Virtual Vaults'.
Transparently track your files' location with File-GPS™, which constantly "calls home" and reports on a file's whereabouts, even beyond company boundaries.
File-Timebomb™ empowers you to set expiration dates for your files: meaning such files will exist for only a limited time outside of the 'Virtual Vault'.
Unique dashboard displaying location and risk level of monitored data.
Consistent data security controls across all data storage applications (including OneDrive, Google Drive, Dropbox, NetApp and any Windows/Linux file storage).
Malicious Behavior Remediation
ITsMine monitors and analyzes how users interact with organizational data to automatically detect and protect against a variety of threats, including data breaches, ransomware attacks, and careless or potentially malicious employee activity.
ITsMine is utilizing AI to strategically deploy SoftwareMines™  (advanced threat sensors) throughout your document repositories.
Detect both external and internal attackers by identifying SoftwareMines™ "detonations" – which means unexpected access, opening or exfiltration of files in the organization's repositories.
Automatic response for different vectors ensures negligible false positives security events.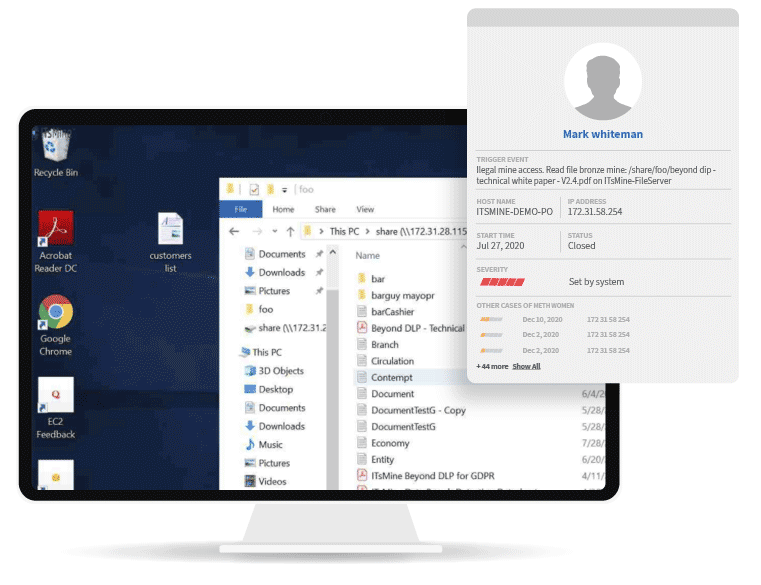 Employee-Centric Protection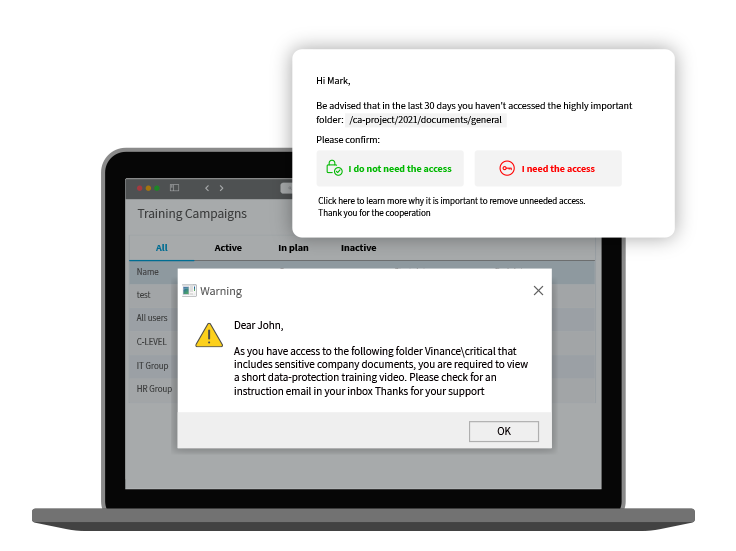 Engage employees in your organization's data protection efforts by using integrated Data Security Awareness Training Campaigns and avoiding unnecessary access to data.
Integrates unique training campaigns educating users in real-time on safe use of necessary data only.
Dashboard with clear metrics presenting the progress of the Data Protection Awareness Campaigns in your organization.
Does not affect the organization's day-to-day workflow and efficiency.
See What BeyondDLP
Can Do For You
Proven, Tested and Trusted
"ITsMine simply did the job! Fair and square. It took us no more than 3 weeks to be fully convinced that we are on the right track" (Sean Kennedy CSO Patra)