ITsMine will be distributed as a trusted vendor partner on Ingram Micro Cloud's Marketplace, propelling global expansion.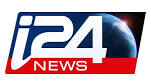 Interview with ITsMine CEO, Kfir Kimhi
Kfir Kimhi discusses data breaches and how organizations can protect user data with ITsMine's Beyond DLP™️ solution.
Following a massive data breach that exposed personal data of 500 million Marriott guests, ITsMine announces it will provide its Beyond DLP™️ solution to the worldwide hotel industry free of charge.
ITsMine CEO, Kfir Kimhi, highlighted as one of the most promising entrepreneurs in the High-Tech industry.